multi level harp ensemble sheet music
Each set of parts includes a full score and multi-level parts allowing players of all abilities to participate. Pricing allows ensembles to print as many parts as needed for their group. Copyright laws apply and only original purchaser holds rights to the entire set, or any solos included in the set.
Amazing Grace
2 or more lever or pedal harps, parts should be evenly divided $5.00
ad lib glissandos in harp II, fingerings, very few 4 note chords, includes score and parts key of G (one sharp), no accidentals zip archive is 184 KB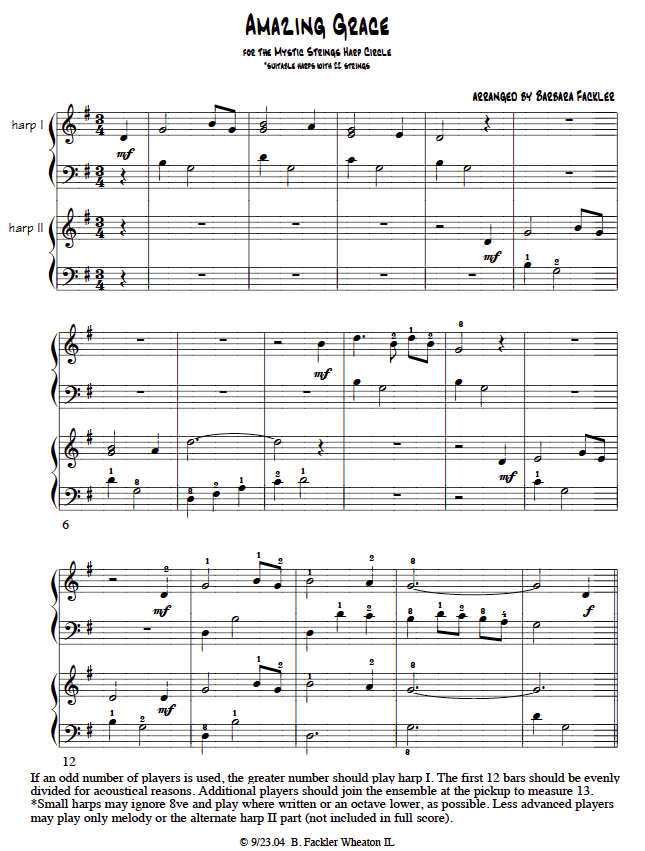 A Night in Bethlehem, traditional Irish carol
includes score and parts $6.00
Two or more harps, evenly balanced. Harp I plays, for the most part, melody in both hands. Harp II includes 4ths, 5ths and 6ths. No note values smaller than eighth notes, no dotted rhythms. Some fingering suggestions included.
Key signature: one sharp (e minor), no accidentals, the range of this arrangement can be seen in the graphic to the right. nearly 2 min. in length. range needed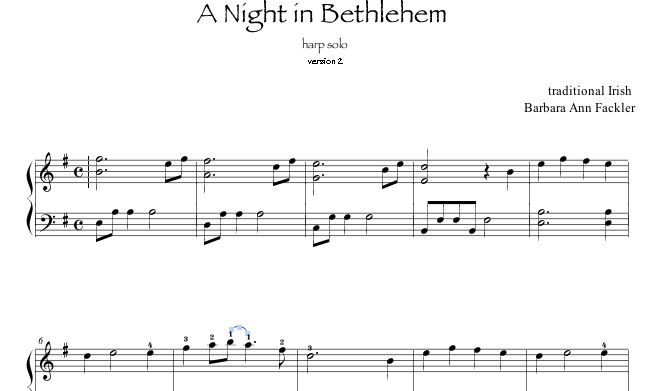 Carol of the Bells $7.00
Now available from Melody's Music for immediate download at purchase for those in a hurry.
Watch Kristal Schwartz's harp students perform this on YouTube. She had the great idea of adding bells. There's another video played by students in Dundalk, Ireland, part of Ireland's National Music Education Programme.
Pedal harp or lever harp ensemble with optional strings. Six harp parts, full score and string parts are included for use in several different options: as few as two parts must be covered. Parts may be doubled. No lever changes, key of A minor. Parts I through V are beginning level, harp VI is for more advanced harpists with lever presets.
Carolan's Welcome
2-5 or more lever or pedal harps ~ $12.00
VIDEO: See Valley Christian Junior High students of Kristal Schwartz Barlaan performing this piece.

midi generated sample(harps 1-4)

midi generated sample; flute, harps 2,3 and 4
includes 2 parts that stand alone as solos, of differing difficulty, chord changes included, as long as a melody part is included, parts may be omitted, doubled or included as desired. key of a minor (all naturals) NOTE: This was revised in January 2012 to include alternate parts for small harps with a bottom note of C. Alternate parts for Harps II and V are included and Harp I is edited to fit small harps.
Thirteen pages of music including score and parts.
Come Thou Almighty King
2 harps (plus optional violin/flute and cello)
This music is now only available as part of the revised version of THE SACRED LEVER HARP, back in print by Vanderbilt Music (pedal or lever)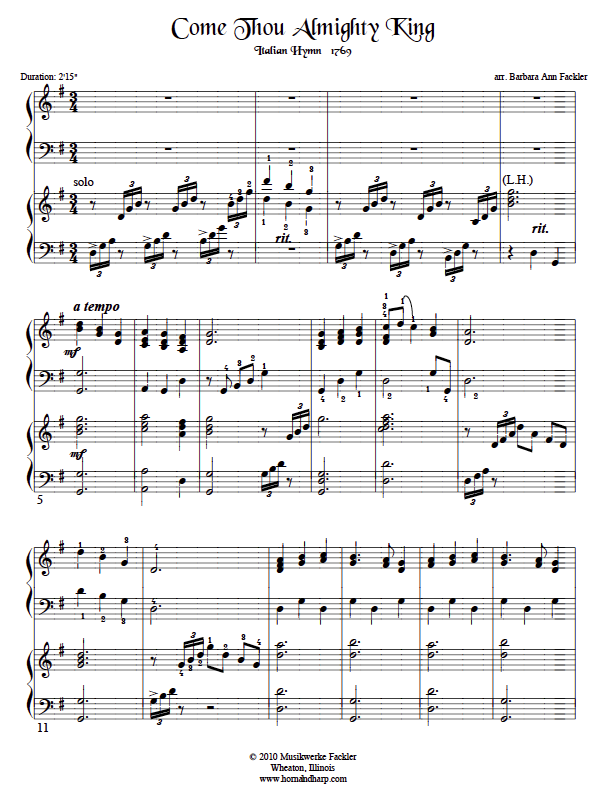 Dagger Dance from Natoma, (Victor Herbert, 1911)
2 or more lever or pedal harps: includes score and parts $6.00
midi generated sample (listen)


beginner level, 5ths in harp II, hands playing in octaves with each other in harp I. This is always a crowd pleaser especially with age groups that remember this from the days when Victor Herbert's music was very popular.
key of d minor (one flat)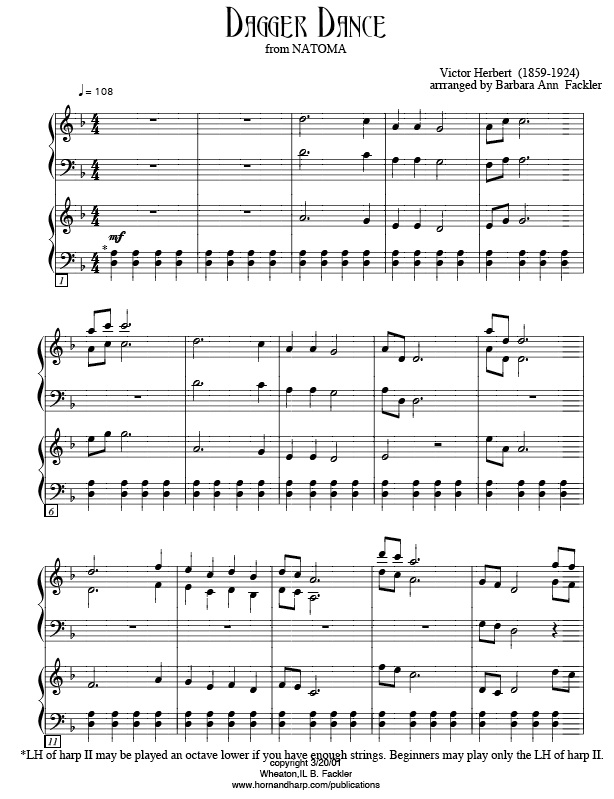 Harpsichore (harp-sik-uh-ree)
2 lever or pedal harps $11.00 includes score and parts
listen to Argreers mp3 (first movement)

listen to La Canarie mp3 second movement

(thanks to Karin Lyle for recording these with me)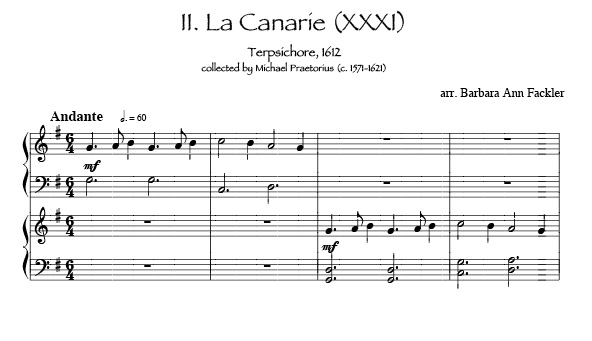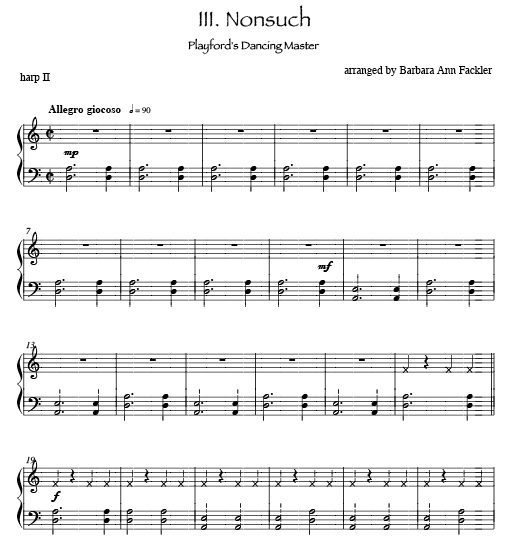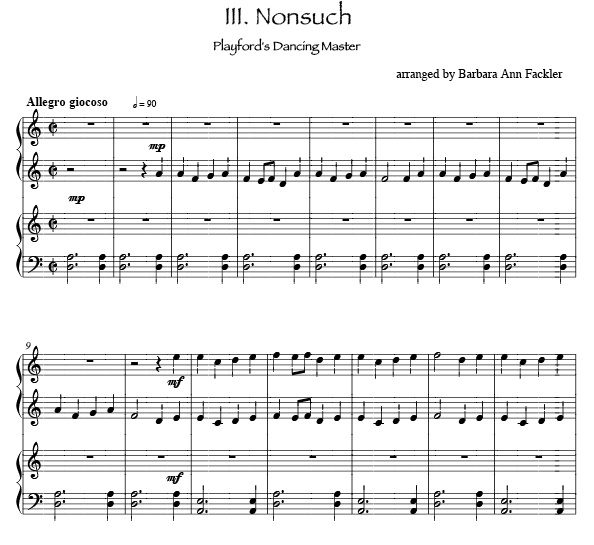 This suite of four Renaissance dance tunes were the social dances for the royals of their day. These delightful and pleasant tunes are great recital pieces and leave the listener humming. Tunes included are Argreers, Nonsuch and The Wish from John Playford's Dancing Master and La Canarie from Michael Praetorius' Terpsichore. Two lever shifts in harp I during Nonsuch that can be omitted. keys of C major and G major
25 pages, includes cover, full score and parts


This optional second harp part for the Hymn to Saint Nicholas may be used with the solo version of Hymn to Saint Nicholas that was published in the winter 2011 issue of the Folk Harp Journal or with the longer version that is included in Short and Sweet Volume V: Seasonal Songs.



The Queen's Marsh (Welsh):
2-4 or more harps, 22 string harps (C-C) or larger $10.00
listen mp3 (thanks to Karin Lyle for recording this with me)
Parts may be used in any combination as along as a melody part and an accompaniment part are included and may be doubled at will. harps I and II can stand alone as solo parts, harp III adds some scale passages and arpeggios(all as root position triads), harp IV uses only root position triads, LH octaves can be simplified by omitting bottom note, harp III becomes accompaniment for a flute and harp version(included) key of a minor (all natural), no accidentals zip archive is 456 KB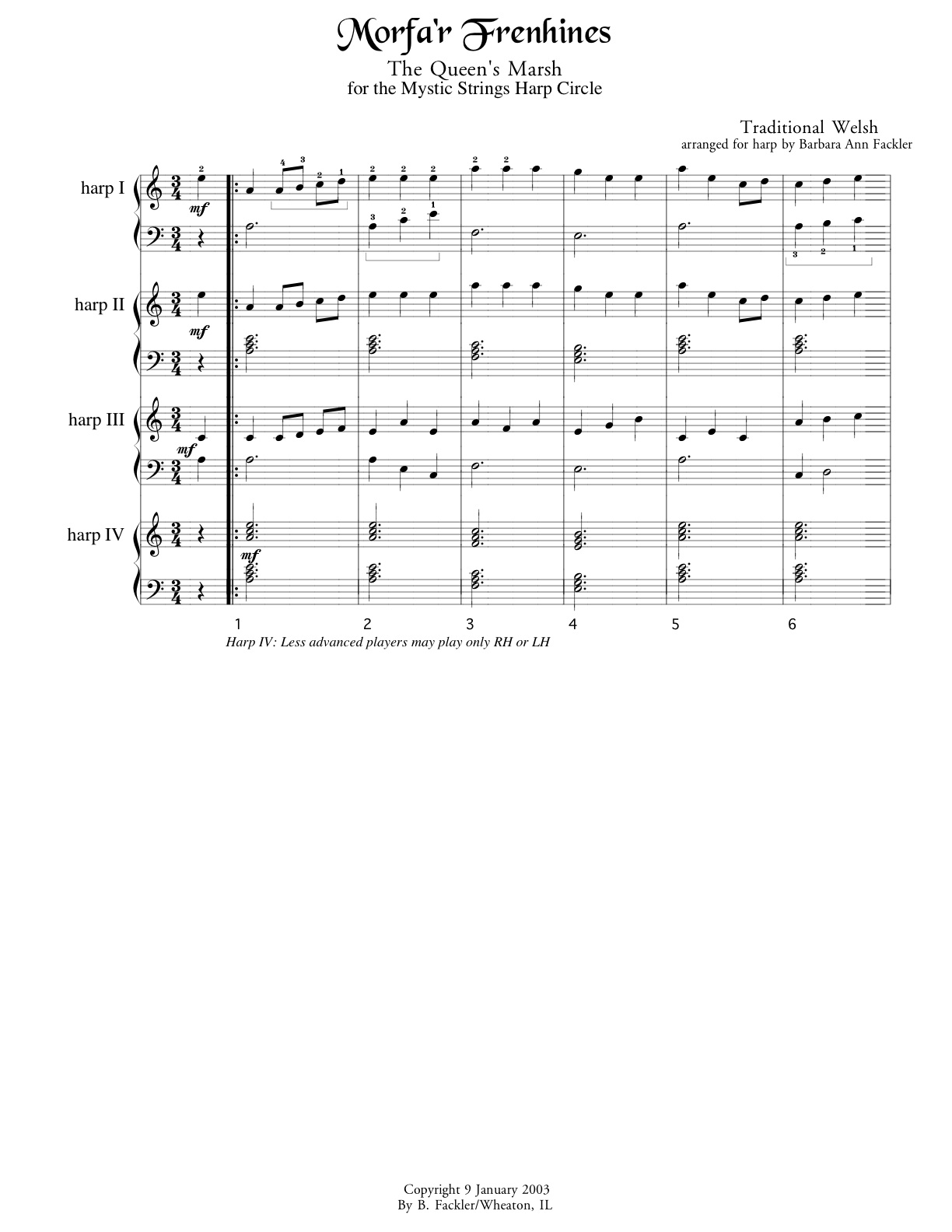 Savior, Like a Shepherd Lead Us
2 or more harps, parts should be evenly divided, includes score and parts $7.00
listen mp3 (thanks to Karin Lyle for recording with me)


Harp I may function as an easy solo. Optional harmonics are included in both parts with mostly thirds and root position triads (both blocked chords and broken chords) and crossing over of hands in both parts. Harp II includes some chords that are not root position. key of D (two sharps), no accidentals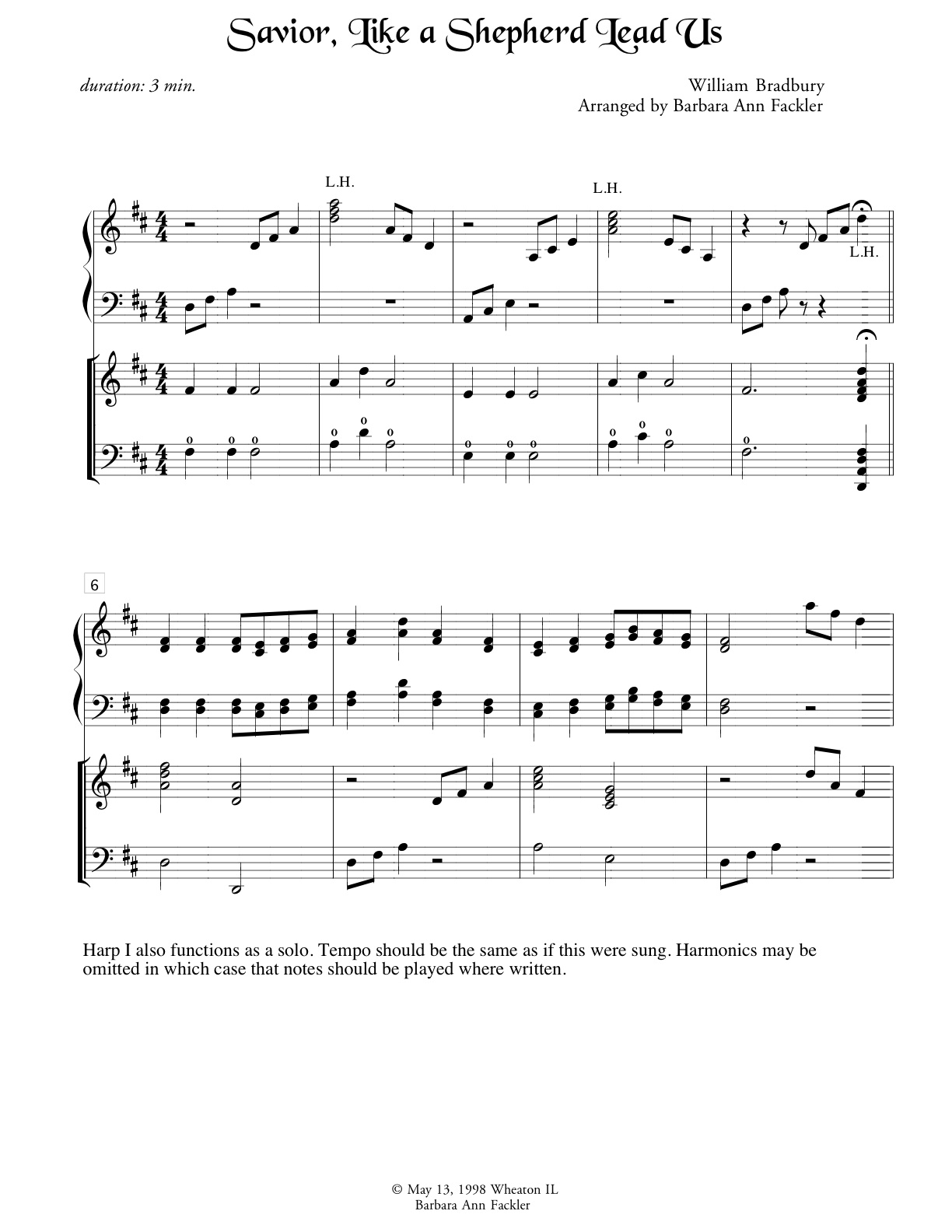 Soaring Birds by Barbara Ann Fackler
up to 8 harp parts $10.00
Commissioned by Kristal Schwartz for Valley Christian Harp Ensemble, all beginners. Harps I and II may combine for one player, as may harps VI and VII. Harp VII is optional for more advanced players. Some of Kristal's students begin harp in September and perform on the Christmas school concert. This piece was designed so the new students could learn their parts by rote if necessary. The children named the piece after rehearsing it for a few weeks. Key of C

listen to a midi file (until we've got the video of the kid's performance)
Solitude by Barbara Ann Fackler
3 or more lever or pedal harps $9.50
includes score and parts sample page PDF
LISTEN: midi generated sample
This is gentle, introspective waltz began as a study in rhythm. Harp III sets the foundation with a steady, waltz accompaniment while harps I and II add melodies that dove tail with each other, often beginning on a weak beat. This was used in a workshop for the Mystic Strings Harp Circle near Chicago, IL, that focused on sightreading and steady rhythm and the difficulty reflects the need for music accessible to nearly any level of ability and small harps of 22 strings. Less advanced players played only part of harp III. Click on the cover image to the left to get a full size cover(PDF) to print. Click on the music for a full size sample page.
key of b minor (two sharps)
no accidentals
11 pages includes full score and parts
Song of Joy by Ludwig von Beethoven
3 or more lever or pedal harps with optional strings $11.00
Commissioned by Kristal Schwartz for her beginning harp ensemble, this allows flexible assignment of parts.

Harps I and II may be played by one more advanced player, as can harp III and IV. Harp V must be included and does not combine with another part. The part may be doubled in both hands if desired.

The string parts are appropriate for elementary age students.

Key of D, no lever changes.
20 pages

listen to the full ensemble with strings: midi file

listen to the version with harps and no strings: midi file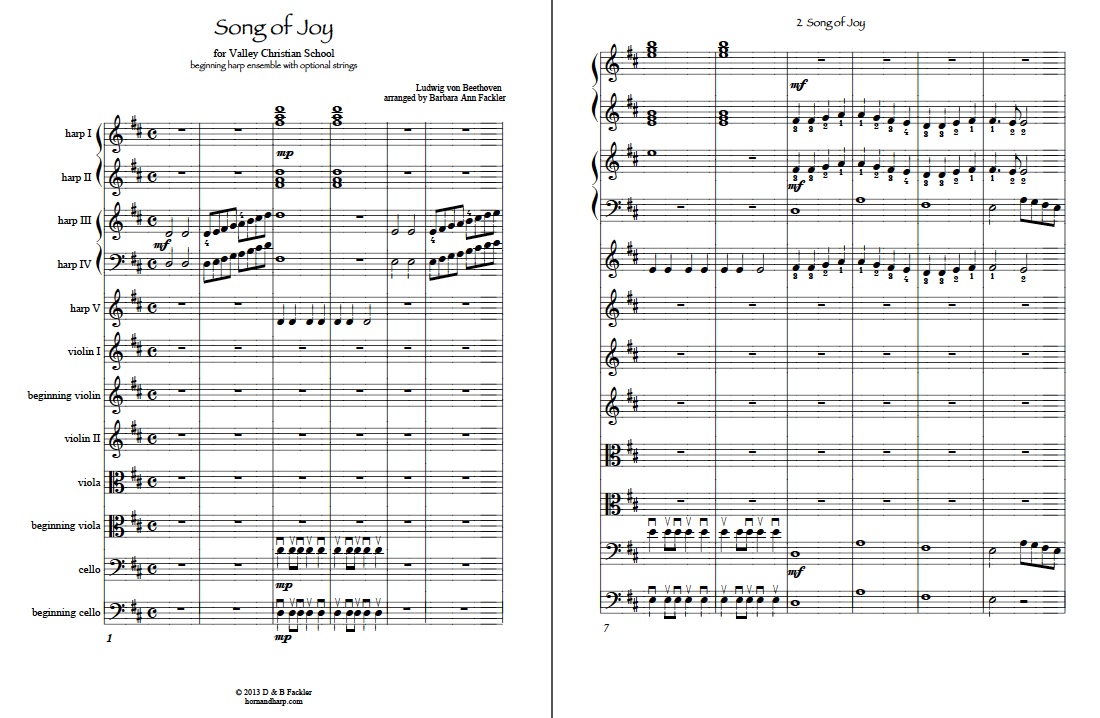 Summer Lullaby FREE SHEET MUSIC
by Janet Lanier with second harp part by Barbara Ann Fackler

Listen mp3(stereo)
listen in mono: mp3

This delightful lullaby was composed as a harp solo by harpist and composer Janet Lanier. Grab the free harp solo from her website in her online catalog. A full score is available for free, send an email and we'll get it right out to you.

The second part was arranged with 22 string therapy harps in mind. Janet has kindly created a 22 string version of the solo part too, so if you have a small harp, you might want to grab that sheet music too. Janet created an mp3 in stereo so you can set the adjustment (in Quicktime) to listen to only one of the parts at at time if you wish (very clever). For some reason, in Quicktime it sometimes only plays harp one. If that happens to you, try using iTunes to hear both parts, or listen to the mono version.

Download the free second harp sheet music here.
Two Carols for Christmas (sold as a set only)
includes score and parts $12.00
Silent Night 2-3 or more harps listen mp3 (thanks to Karin Lyle for recording this with me)
harp I functions as a solo as well, harp I includes use of thirds and sixths
harp II (for more advanced students) includes scale passages and arpeggiated root position triads
harp III has no intervals larger than a third.
This may be performed with any two of the three parts.
key of C, no accidentals
approximately 2 min.
easily adapted for small harps
30 pages includes cover, full score and parts
Three Christmas Lullabies for 2 harps


The three lullabies included are: Chtic, Aby Spal, Tak Zpívala (Sweet Mary Sings Her Babe to Sleep): Czech (key of G); Christ Child's Lullaby (Taladh Chriosta): North Hebrides, a Marion lullaby often used for Christmas Eve Midnight Mass (mixolydian mode); Wiegenlied Der Hirten (Shepherd's Cradle Song): Glatz Folk Song: C.D. Schubart 1791 (key of G).
This setting is an ensemble version of the harp solo available with the tutorial on lead sheets.
This harp duo version does NOT include a part that stands alone as a solo.
key signature: one sharp, no accidentals.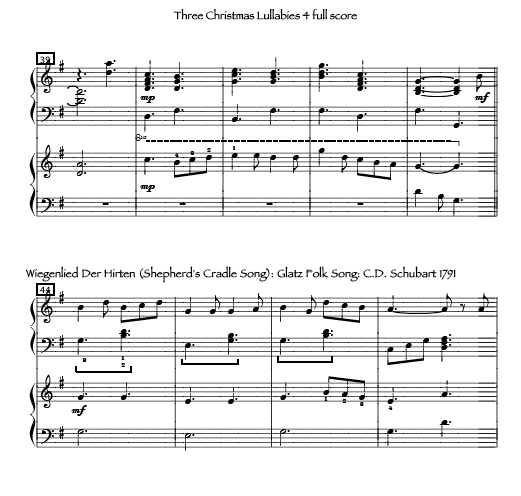 Two Christmas Carols: (sold as a set only)
includes score and parts $7.50
We Three Kings 2 or more harps 22 string harps (C-C) or larger

harp II includes tapping on the sound board, no 4 note chords, no notes smaller than eighth notes, key of e (one sharp) minor, both parts are fairly easy, less advanced players can play either only RH or LH, approximately 2 min. 16 pages includes cover, full score and parts

Il est né le divin enfant 2 harps sample

harp II is easier than harp I, however both harps take a turn with the melody
easy to intermediate level
includes three variations on the melody, long enough for prelude or postlude.
key of G (one sharp)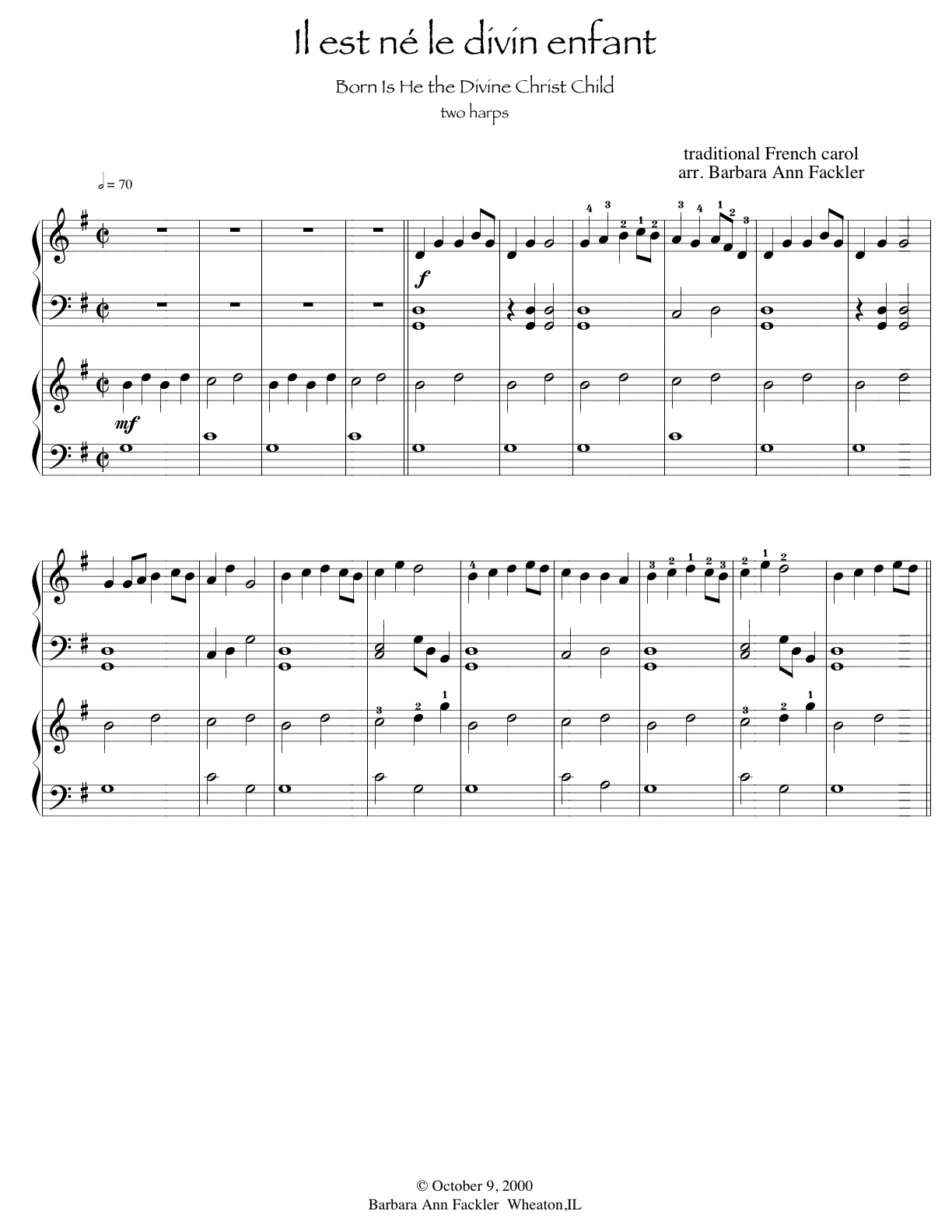 Whisper a Prayer
2-3 harps plus optional violin/flute and cello
Available NOW as part of the entire Sacred Lever Harp collection. Should be here soon, available as a solo or with instrumental parts. The harp 2 and harp 3 parts will be available for free download.